March is the month of Kurdish history. Often tragic but also full of hope. With this column we want to share Kurdish history with you. Follow us @KRG_Austria for updates #KurdishHistoryMonth !
Dear friends,
March is #KurdishHistoryMonth . Attached you will find the logo (profile picture) and various introductory graphics that you can and should freely share among your friends, family and of course on social media. Let us tell the world more about Kurdish history, in particular about the historic events and personalities connected to this month, where sorrow and happiness lie so close together. In the coming days and weeks we will continue to provide you with updates through @KRG_Austria but we really have intended this to be a wider effort by the Kurdish community. So please do share, including your own pictures, videos and stories!
Thank you and happy Kurdish History Month!
---
Another event in the recent kurdish history started on 1st March 26 years ago.
---
Article 4: The traditional ties of good neighbourliness and friendship."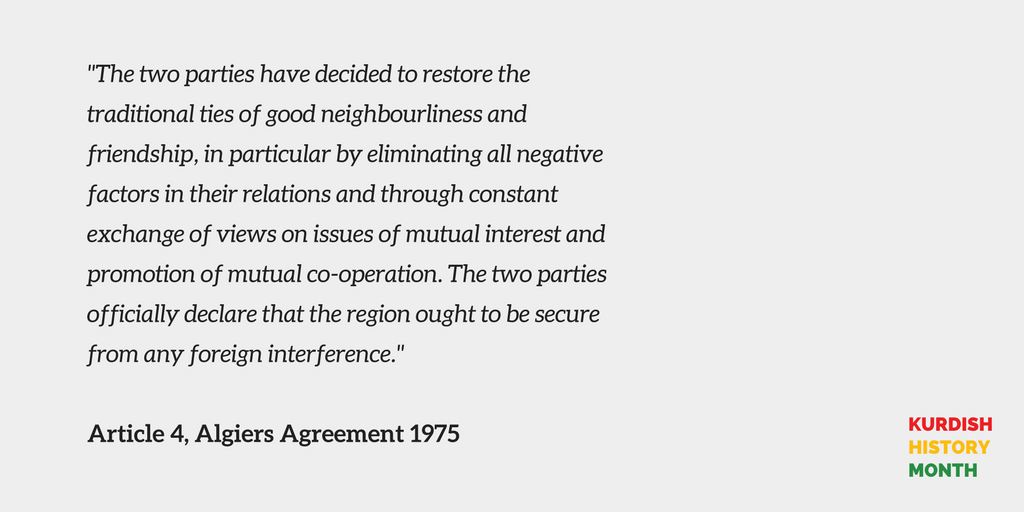 ---
The introduction of the Algiers Agreement 1975. A solution for the purpose of  "self-determination".
---
The Algiers Agreement 1975.
---
General Mustafa Barzani, great leader of the Kurdish national movement, passed away today 38 years ago. #kurdishhistorymonth